Handheld Carbon Peel Skin Rejuvenation Nd Yag Laser Machine For Tattoo Removal
Handheld Carbon Peel Skin Rejuvenation Nd Yag Laser Machine For Tattoo Removal
Product series:
viewes:
1916
Description:
Treatment principle
Nd yag Laser tattoo removal equipment adopts the Q swithch mode, which makes use of the instantaneous emitted laser to break the pigment in ill structure. That's the laser instantaneous emit theory: centralized high energy emit suddenly, which makes laser of settled wave band instantaneously penetrate through cuticle to the ill structure in 6ns, and break the relevent pigments quickly. After aborb the heat, the pigments swell and break down, some pigments ( in skin-deep cuticle ) fly off the body immediately, and other pigments ( deep structure ) break down then become the tiny granule can be licked up by the cell, digested and egest from the lymph sell. Then the pigments in ill structure lighten to disappear. Moreover, the laser do not damage the around normal skin.
Functions
1320nm wavelength:
Skin rejuvenation, pore shrinking, oily skin improvement, skin deep cleanning, whitening and tightening.
1064nm wavelength:
get rid of freckles, eyebrow tattoo, failed eye line tattoo, tattoo, Nevus of Ota, black and blue color and so on pigmentation;
532nm wavelength:
get rid of freckles, eyebrow tattoo, failed eye line tattoo, tattoo , lips line, shallow red and brown pigment, telangiectasis and so on.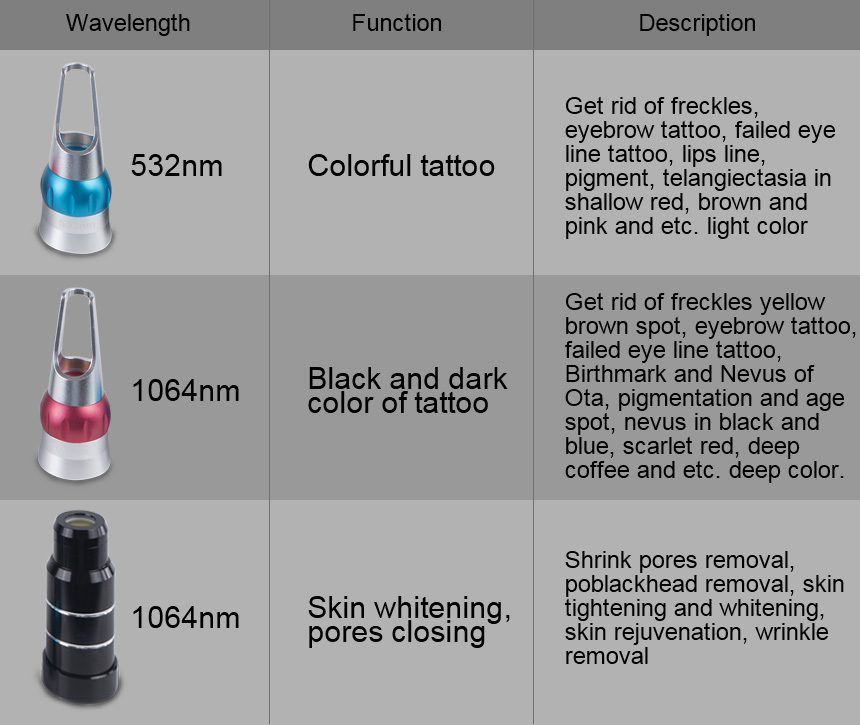 Specifications
| | |
| --- | --- |
| Laser type | Nd yag laser+black face therapy |
| Laser handle | 1064 / 532 nm /1320nm carbon laser tip |
| Energy density | 400mj~1000mj adjustable (peak value up to 1500mj) |
| Pulse width | 10ns |
| Pulse frequency | 1-6Hz (1-10 Hz available) |
| Screen display | 8 inch large color touch screen display |
| Cooling mode | Internal water circulation+double fans+ outside air cooling |
| Power supply | AC110V/10A/ 60Hz, AC220V/5A/50Hz |
| Dimension | 36x43x110cm |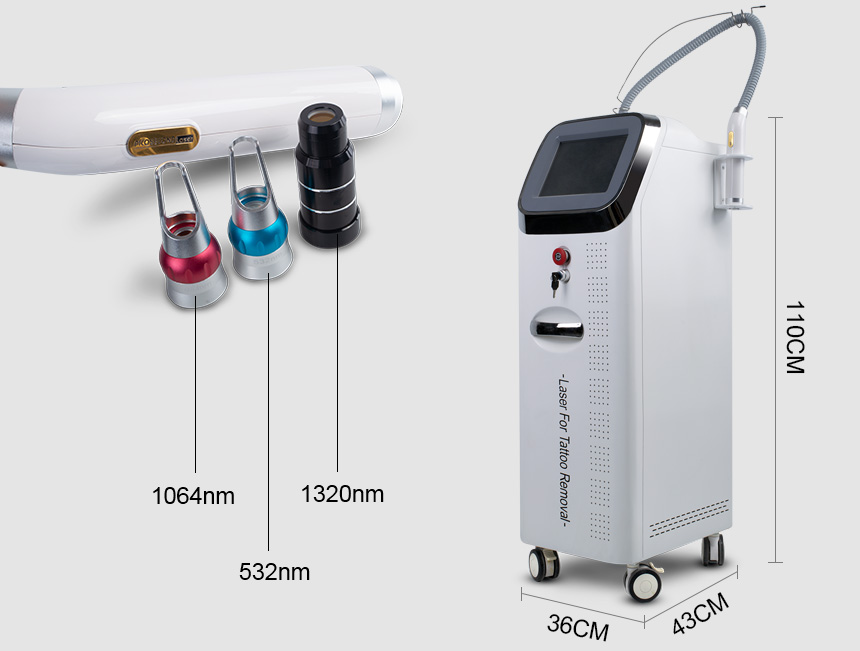 Our laser tattoo removal machine advantages
1. Professional 1064/532/1320 heads for different treatment.
2. Big power, high energy, perfect treatment effect.
3. Special designed cooling system ensures constantly working.
4. Safety:No side effect,No harm to normal skin,the certain wavelength laser just take effect on abnormal skin;
5. Adopt the superior crystal accessories(xenon lamp,crystal),which greatly ensure the work stability and powerful energy.
6. Painless:No need of anasthesia during operation;
7. Easy to control:very friendly operation display screen,so easy to handle it.
8. Popular with patients and easy to get the investment back.
9. Aluminum alloy package, convenient for transportation.
Product display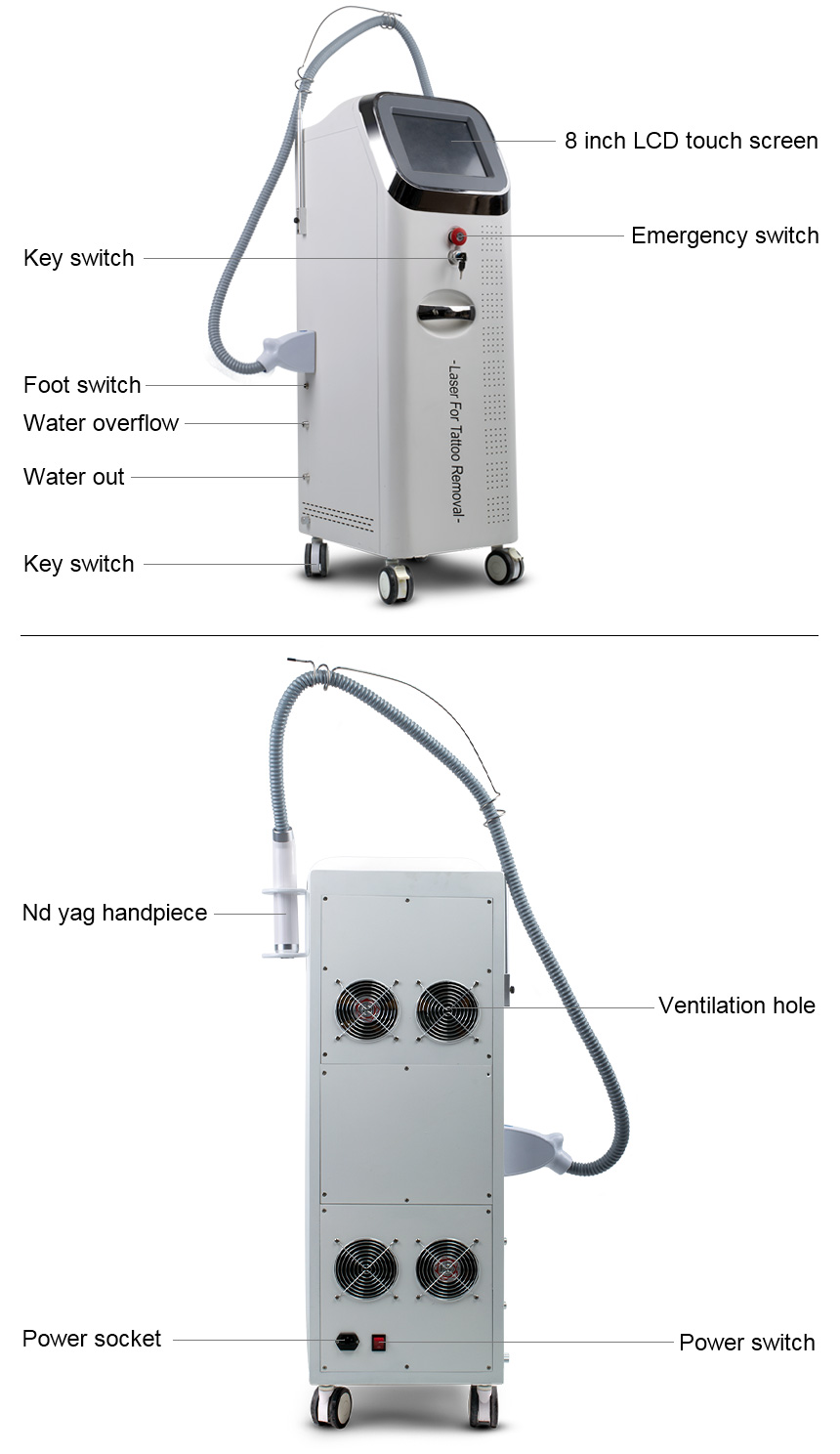 Product display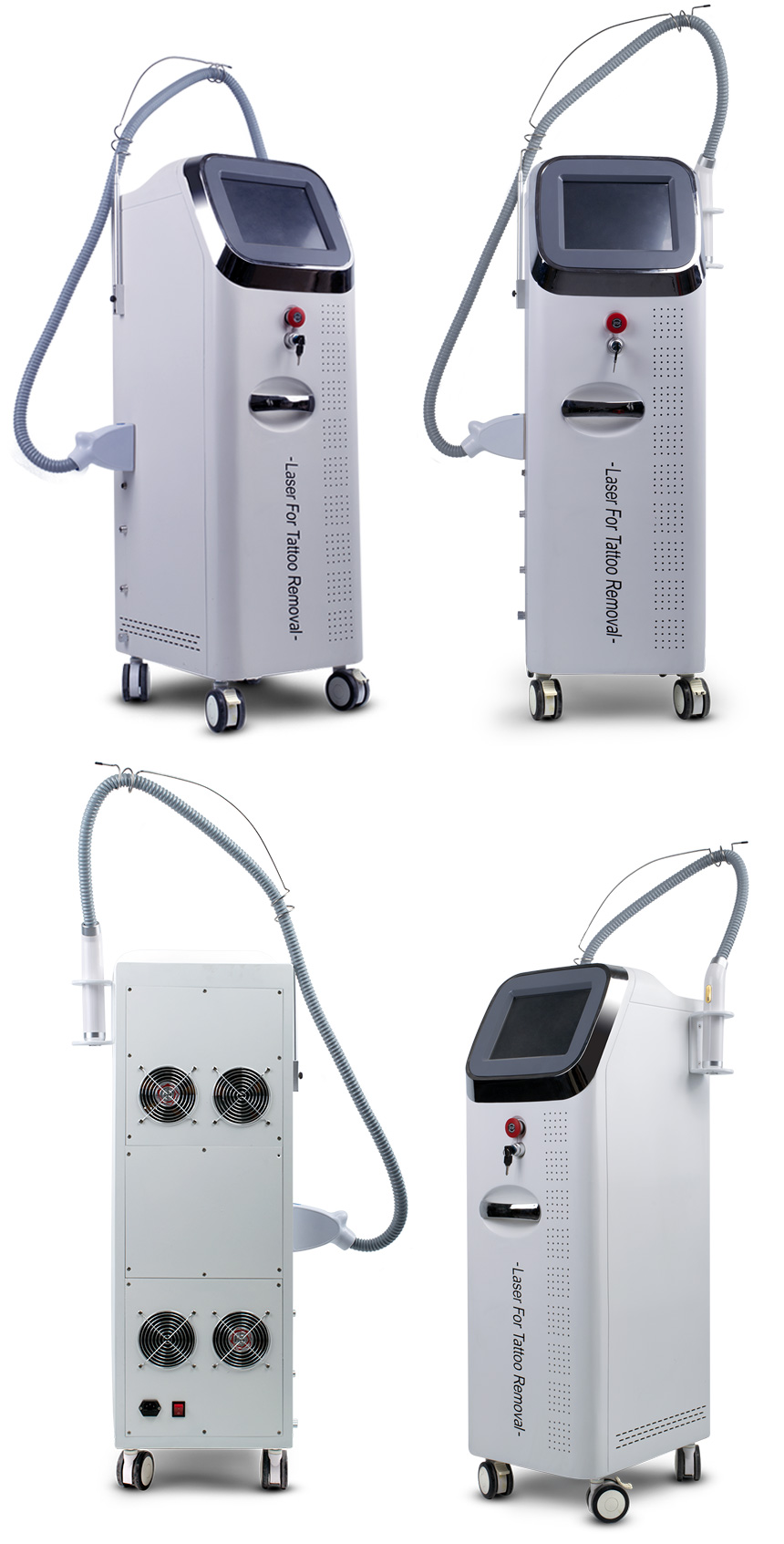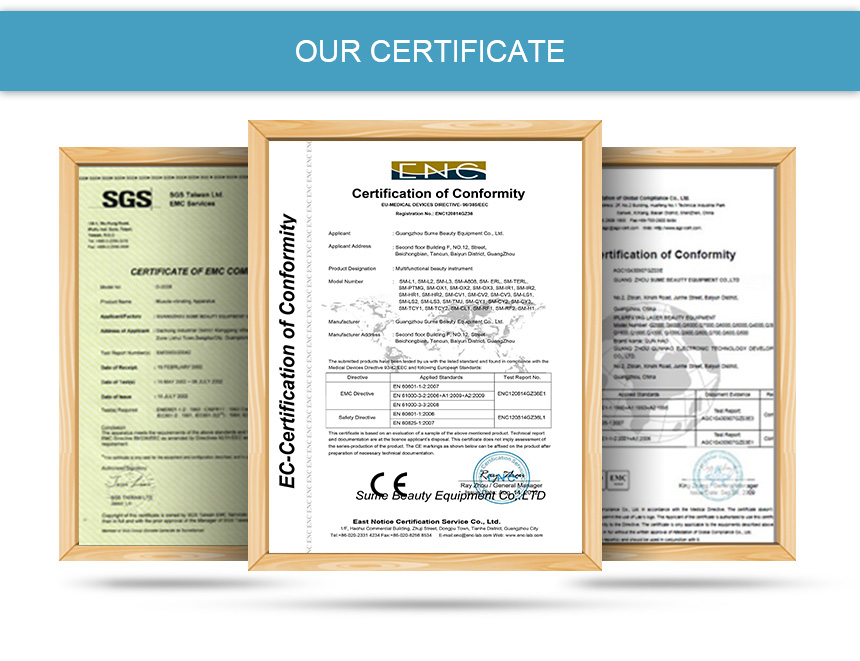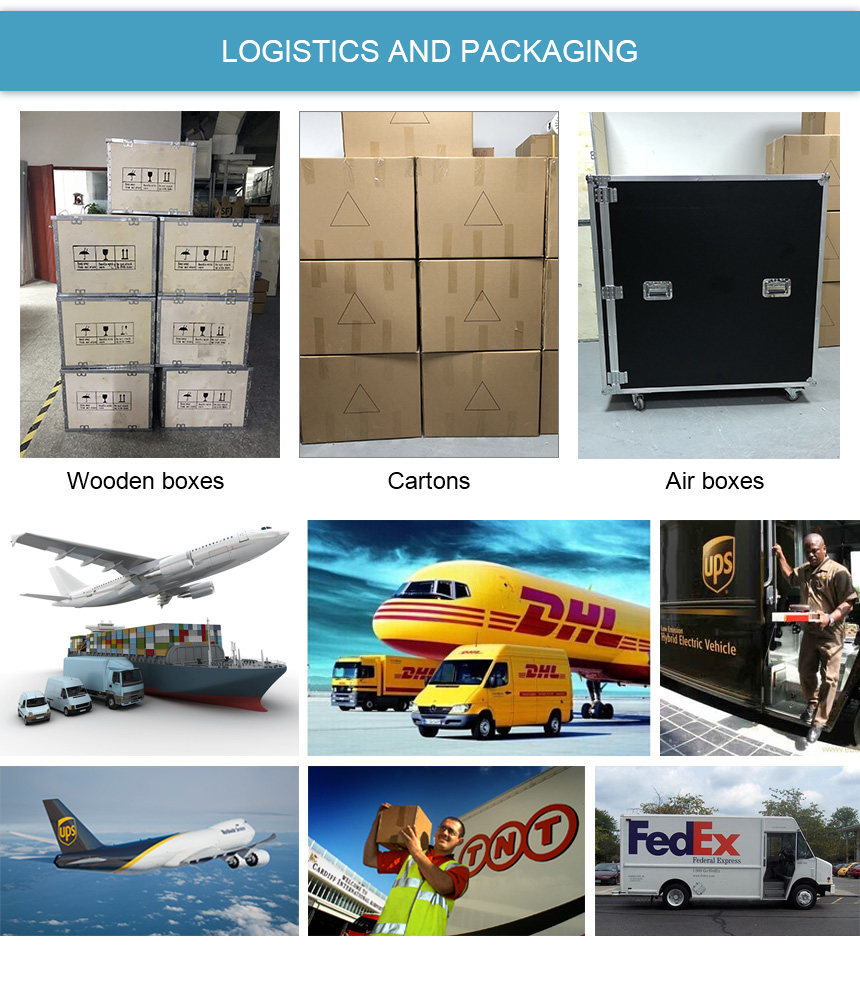 Inquiry Details