Portable Q Switched Nd Yag Laser Machine for Tattoo Removal
Portable Q Switched Nd Yag Laser Machine for Tattoo Removal
Product series:
viewes:
259
Description: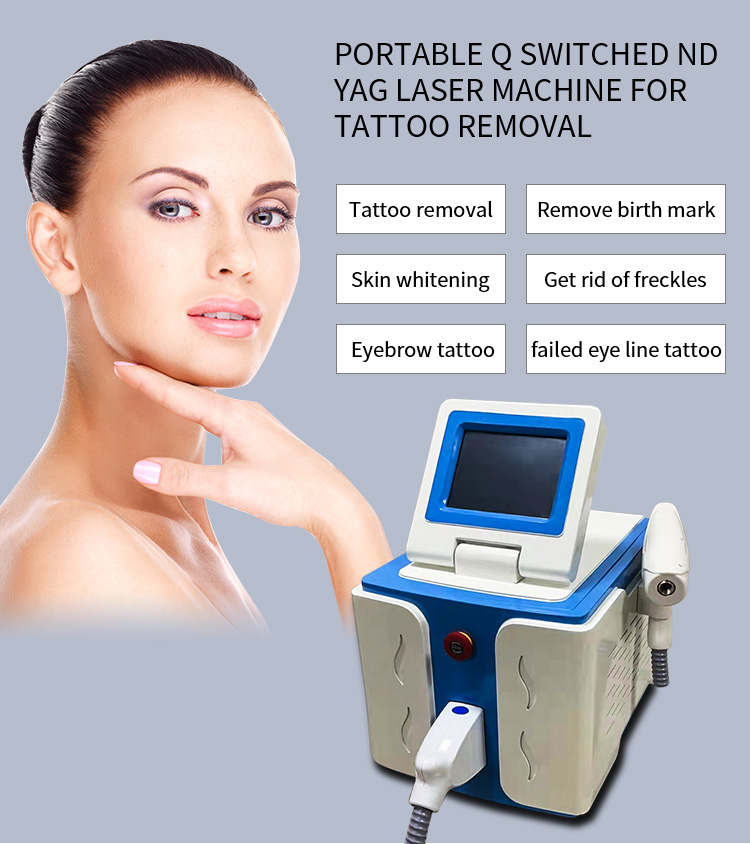 Working Principle of laser tattoo removal

Laser technology has greatly improved the ability to treat melanocytic lesions and tattoos with the rapidly pulsed Q-switch neodymium: yttrium aluminium garnet (Nd: YAG) laser. The laser treatment of pigmented lesions and tattoos are based on principle of selected photothermolysis. The QS laser Systems can successfully lighten or eradicate a variety of benign epidermal and dermal pigmented lesions and tattoos with minimal risk of untoward effects.
Laser pigment removal machine though high energy of laser transient emission, make irradiated pigment particles absorb energy expansion rupture. Most or all of epidermal pigment group split into smaller tiny particles immediately ruled out in vitro. Part of dermal pigment group fragment into body macrophage phagocytic particles that ingest and excrete through the lymphatic system, thereby eliminating pigment. Due to normal tissue on 1064nm laser absorption is very few, maintaining the cell frame complete. No scar formation conditions. Because of the laser pigment removal is no damage to normal tissues, its security guaranteed maximum customer without complications from postoperative.
Gradually the pigment becomes lighter and lighter till disappearing. Gradually the pigment becomes lighter and ligher.



Application

Endogenous pigment: Tada nevus ( birthmark ), pigmented nevus, coffee speckle, age spots, freckles.
Exogenous pigment: various color tattoo, tattoo eyebrow, eye liner, lip stria, traumatic tattoos.
1) 532nm: for treatment of epidermal pigmentation such as freckles, solar lentigo, epidermal melasma, etc.(mainly for red and brown pigmentation)
2)1064nm: for treatment of tattoo removal, dermal pigmentation and treating certain pigmentary conditions such as Nevus of Ota and Hori's Nevus. (mainly for black and blue pigmentation)
3) Non-ablative Laser Rejuvenation (NALR-1320nm) using carbon peel for skin rejuvenation.

Function of machine
Endogenous pigmented skin lesions:, Ito hemorrhoids, Mongolian spot, the zygomatic brown blue nevus, coffee spots, seborrheic keratosis, nevus, junctional nevus, melanosis and blue nevus, inflammation, pigmentation, part chloasma.
The skin of exogenous pigment: tattoo, tattoo pattern liner pattern lip and traumatic tattoos and other pigmented skin lesions treatment have the outstanding effect.
Black face dolls: the contraction pore, balance grease, remove blackhead, remove acne,brightens the skin tone, firm the skin.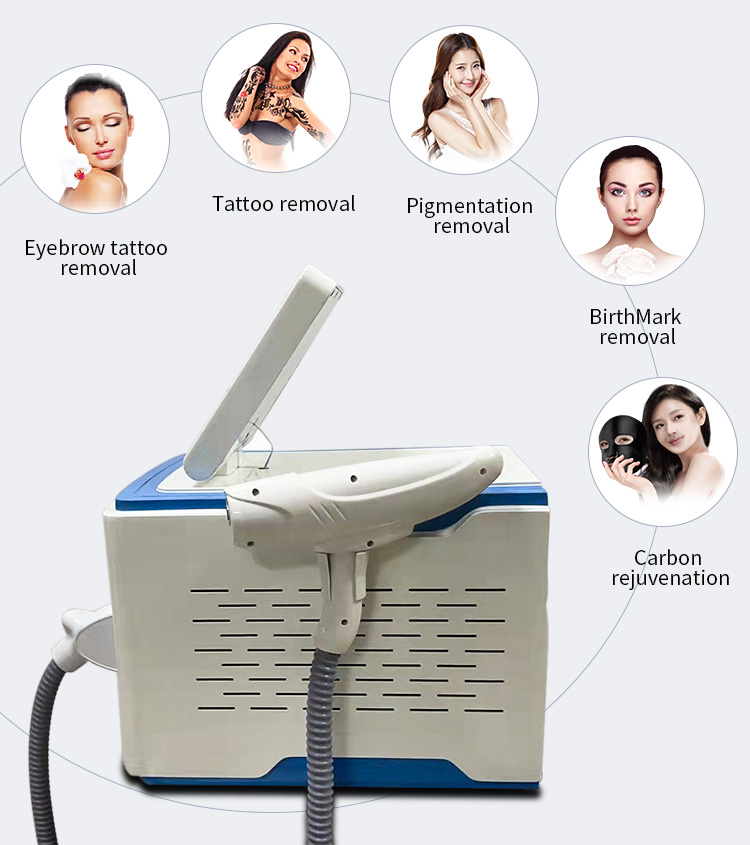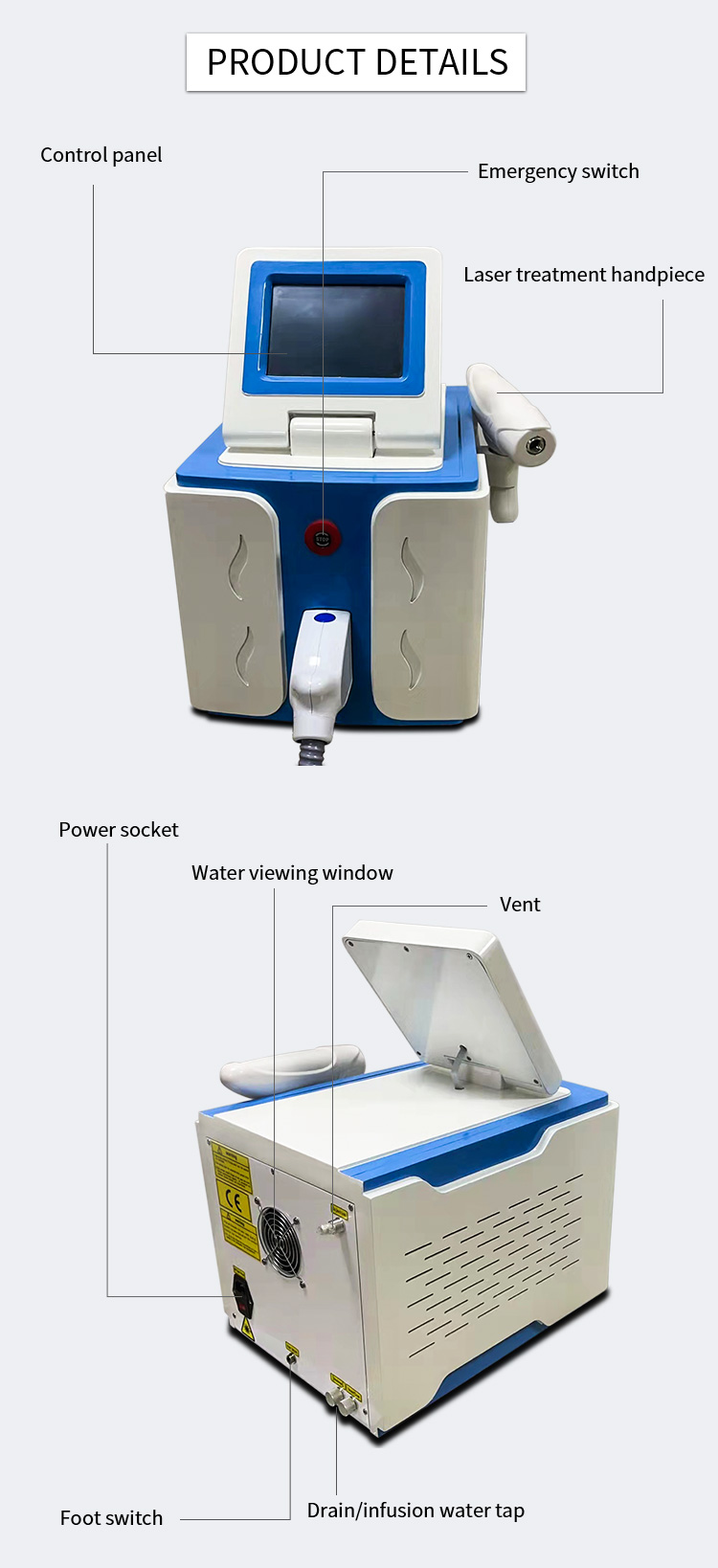 Inquiry Details