2D Hifu Machine for Face Lift /Wrinkle Removal/Skin Tightening
2D Hifu Machine for Face Lift /Wrinkle Removal/Skin Tightening
Product series:
viewes:
1173
Description: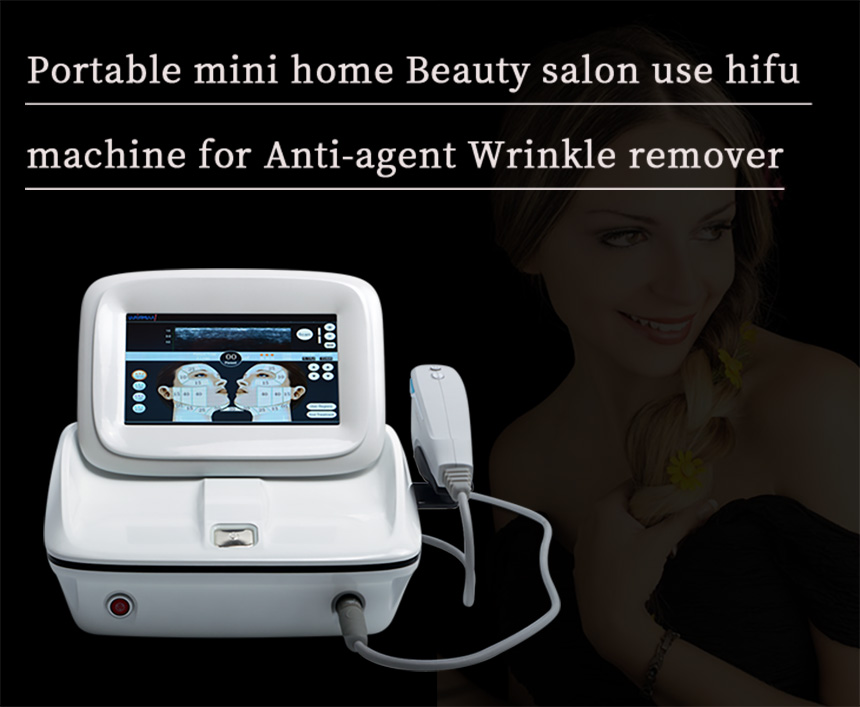 Working theory of the HIFU
High Intensity Focused Ultrasound (HIFU) directly delivers heat energy to skin and subcutaneous tissue that can stimulate and renew the skin's collagen and thus consequently improving the texture and reducing sagging of the skin. It literally achieves the results of a facelift or a body lifts without any invasive surgery or injections, moreover, an added bonus of this procedure is that there is no downtime. This technique can be applied to the face as well as the whole body, and also, it works equally well for people of all skin colours, in contrast to that of lasers and the intense pulse lights.
Parameter
Technology:High intensity focused ultrasound
Number of head:2 heads(3.0mm, 4.5mm)
Imput power:AC 110/220±10% 50HZ/60HZ
Control system:15 inch big color touch screen
Operating language:6 kinds (can be customized) English, Chinese , Spanish, Russian, Italian
Imput power:AC 110/220±10% 50HZ/60HZ
Power:800w
Therapy frequency:0.1-2J (0.1 step)
Length:10-34mm
Spacing:1-10mm
Standard 2 heads of HIFU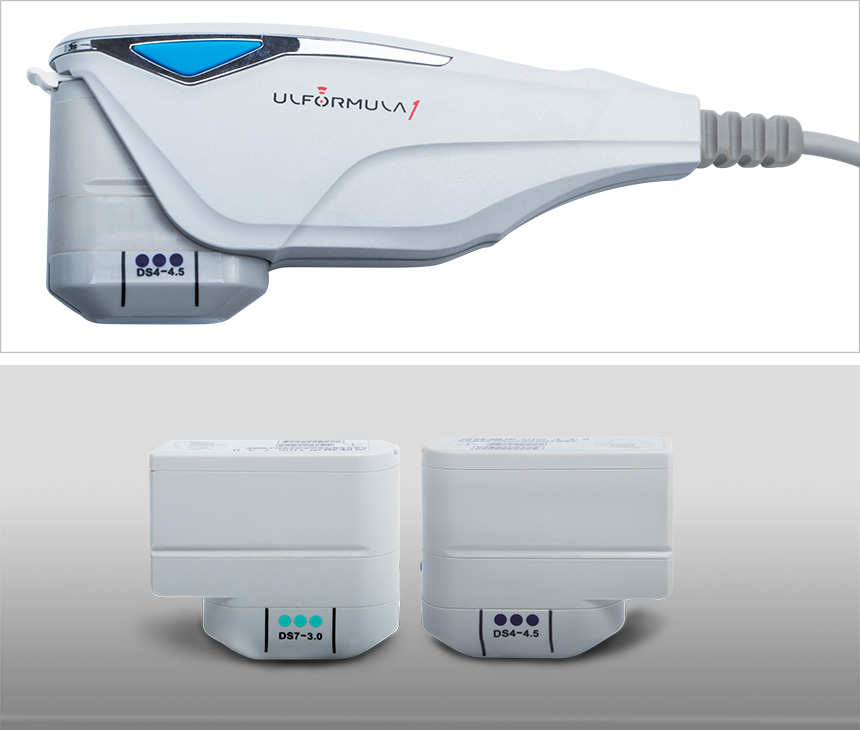 DS-3.0 for transmitting high frequency focused ultrasound energy into the dermis layer of the skin tissue, the ultrasound to penetrate the skin to a depth of 3.0mm,is responsible for activating the skin's dermal layer of collagen, effectively enhance the effect of the consolidation of the outline, but also improve large pores and reduce the appearance of wrinkles. targeted to chin, chest.
DS-4.5 used to transmit high- energy focused ultrasound to the skin, subcutaneous tissue, the ultrasound to penetrate the skin to a depth of 4.5mm, direct subcutaneous SMAS layer, targeted to thicker skin, such as cheeks, neck, etc.
Machine Features of the HIFU
1. Quick & short treatment time : 30 MINS one face treatment
2. SMAS contraction : collagen remodeling , elastine fiber contraction
3. None downtime : skin just become red within the first several hours , then skin recover .
4. Instant result will be checked from the second month to the nine month , good result will last 2-3 years
5. Totally non-invasive
Applications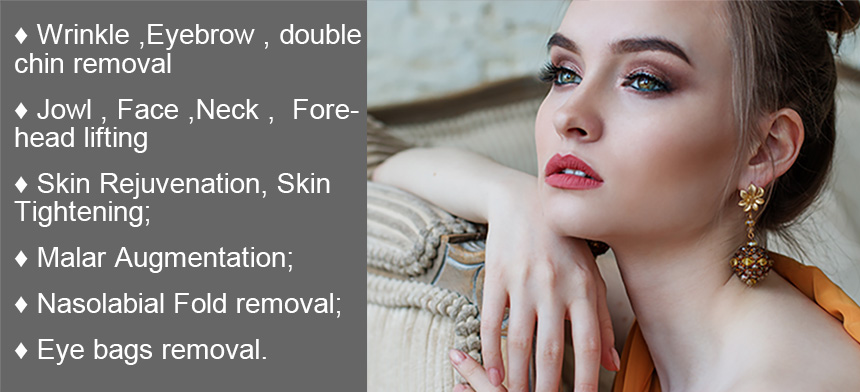 1. Rejuvenation of sun damaged skin - face, neck, shoulders, back, arms and legs
2.Reduction of age spots.
3. Minimization of blotchy skin coloring.
4. Reduction of acne and superficial scars from past injury.
5. Extraction of blackheads and whiteheads.
6. Reduction of oily Skin.
7. Improvement of overall skin health.
Strong Points of the HIFU
♦ Superficial ,deel dermis and SMAS(Superficail Muscular Aponeurotic System).
♦ Triple layer lifting effect system
♦ High peak power ,Shortening procedure time.
♦ Patients' high satisfaction
♦ High quality,low consumables
♦ More accurate procedure due to Exact Focusing Technology.
Product details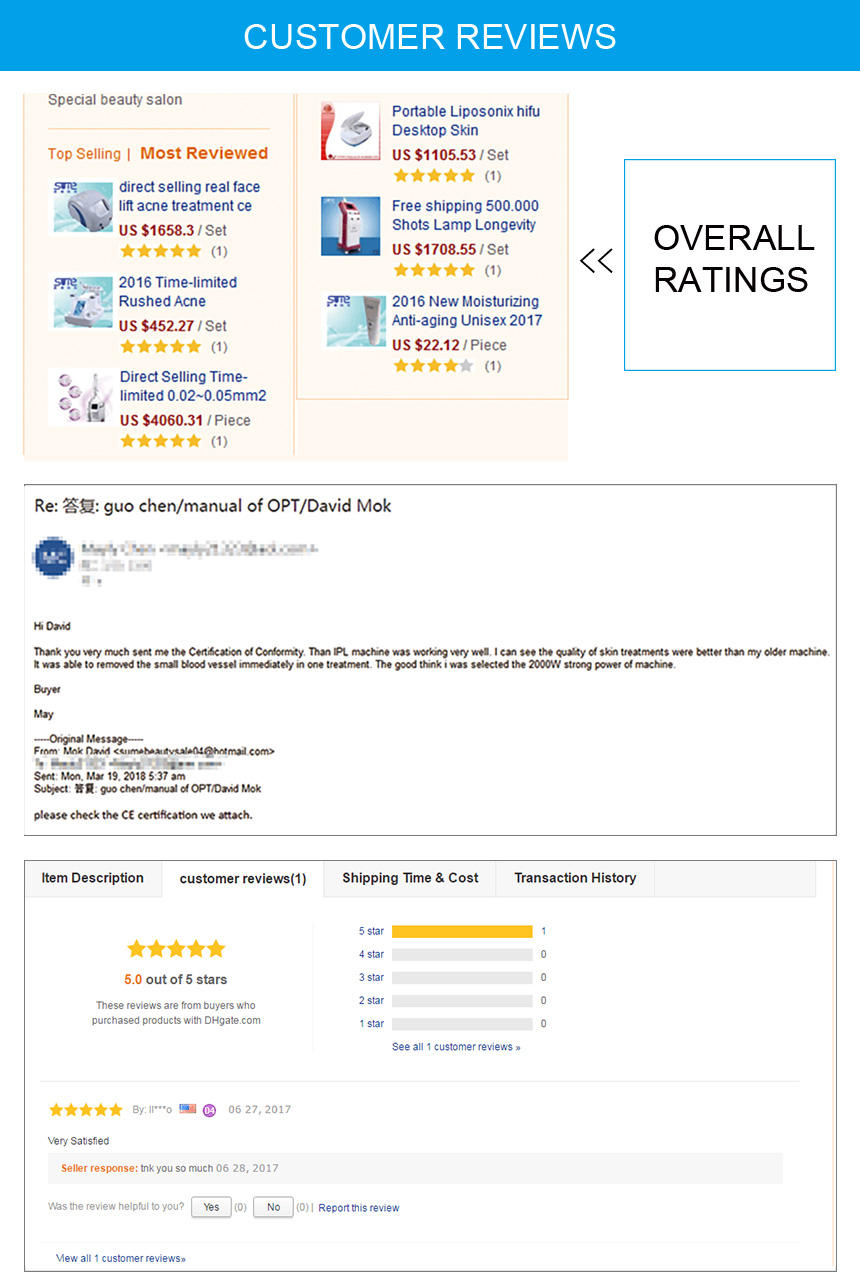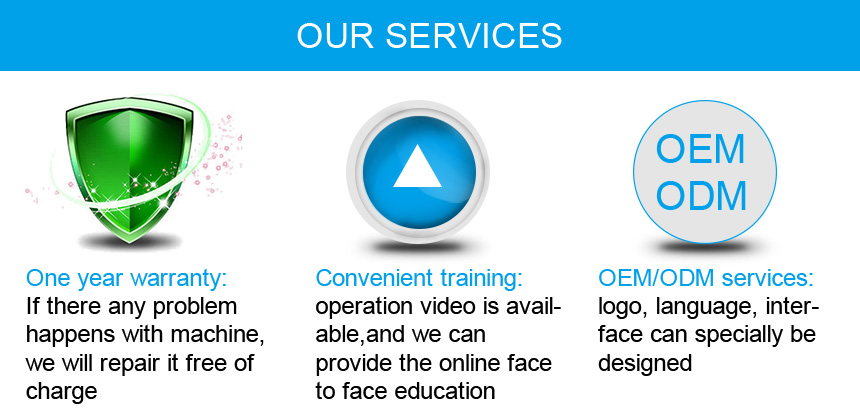 Inquiry Details