2 in1 Portable Loss Weight Hifu Laser Machine Skin Tightening Weight Loss Machine
2 in1 Portable Loss Weight Hifu Laser Machine Skin Tightening Weight Loss Machine
Product series:
viewes:
1628
Description: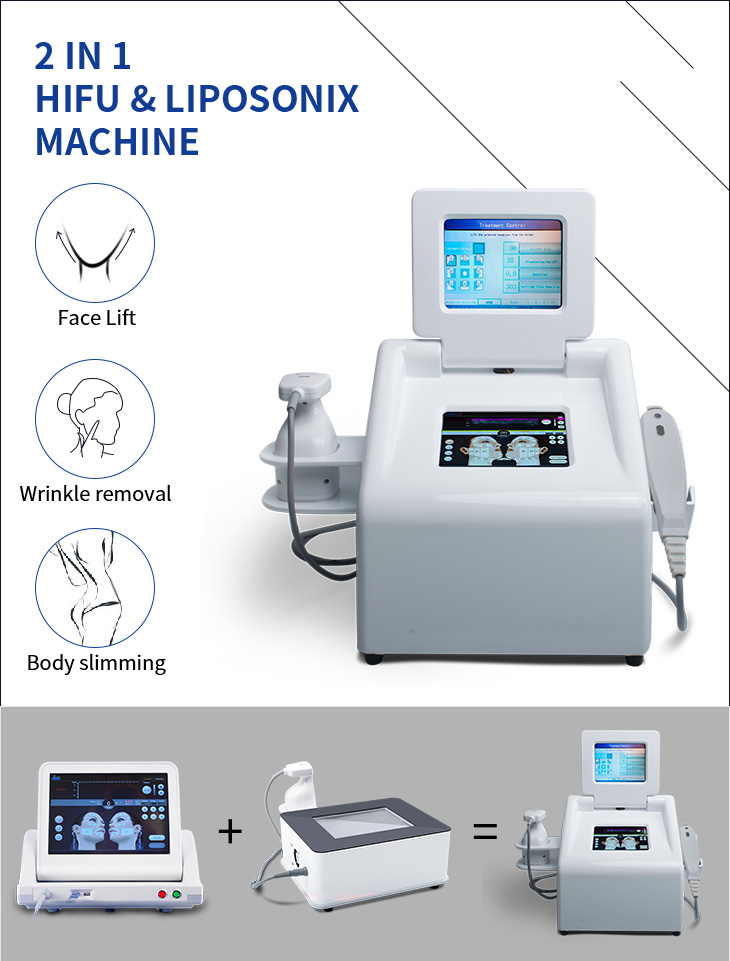 Principle
HIFU
1.5mm head ---the ultrasound to penetrate the skin to a depth of 1.5mm,is responsible for activating the skin epidermis in thinner tissue. such as eye zone.
3.0mm head---the ultrasound to penetrate the skin to a depth of 3.0mm. targeted to chin, chest.
4.5mm head--- the ultrasound to penetrate the skin to a depth of 4.5mm, direct subcutaneous SMAS layer, targeted to thicker skin, such as cheeks, neck, etc.
Liposonix
By focusing on treatment of HIFU technology, deep subcutaneous 1.3 cm for treatment, interfere hot cells of subcutaneous fat, use heat destroy the subcutaneous fat permanently, reduce fat at the same time, directly stimulate the collagen contraction and thickening, quickly fill the gap after melting fat, make the skin smooth and water embellish as before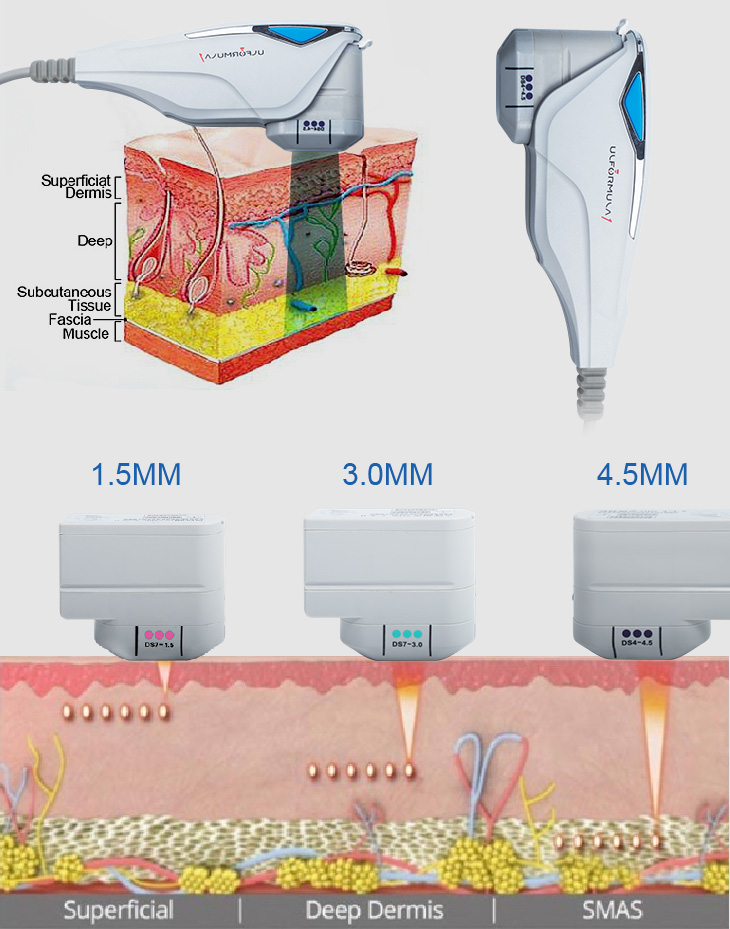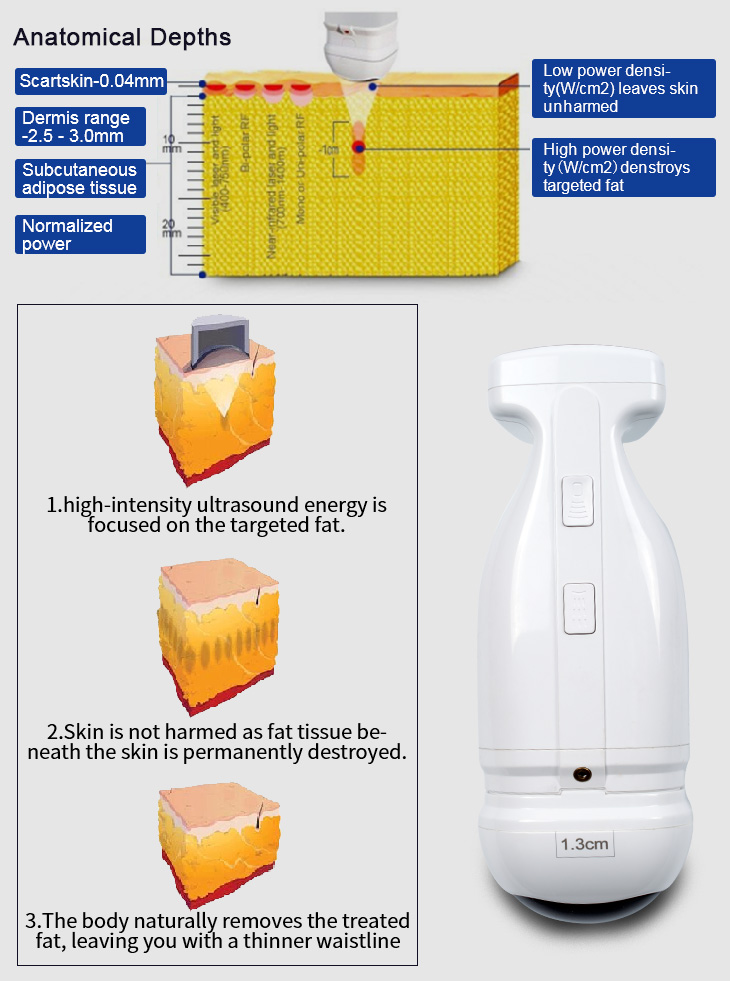 Parameter
Input Power

≤580VA

Frequency

4MHz

Effective shoots

525shoots




each shoot :576spots

Voltage

AC 220±22V,50Hz±1Hz

Mode of Operation

Continuous Mode

Energy Files

35~75/5Levels

Ingress Rating

IPXO

Environmental Requirements

Temperature:5ºC~40ºC




Humidity:≤80%




Atmos:86.0kPa~106.0kPa

Net Weight

15Kg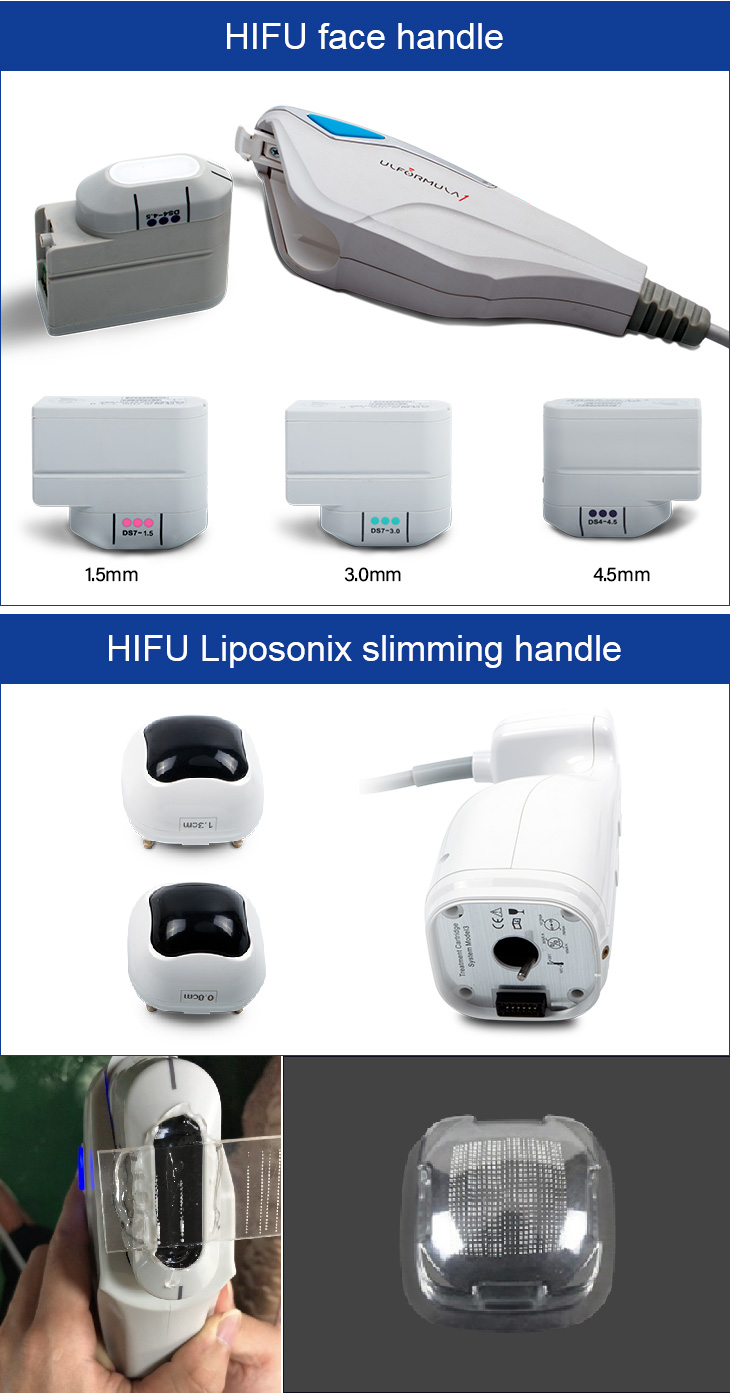 Advantages and features
1, dispel various wrinkles;
2, for relaxation of skin, can effective tightened skin;
3, skin more has elastic, more delicate;
4, long-term keep skin young State and treatment can replace high risk skin lifting surgery;
5, solve skin loosing, sagging, and wrinkles three big age problem;
6, non- surgery, non injection, and efficient security, short recovery time.
7.3 times treatments, which can make skin collagen in growing as much as a year, within six months is the peak growing season, growth was inspired. Lasting up to a maximum of 5 years.
8,Short treatment time, about 40 minutes to complete the treatment, and no recovery period after the operation. Without affecting the life, work, and is the international authority of the top anti-aging system.
Treatment range
Mainly used in the overall excess sagging skin, wrinkles, aging skin rough, face shaping, improving eye area and neck loose, drooping.
1, wrinkle Facial rejuvenation: deep wrinkles, folds, forehead lines, nasolabial fold enhancement, lip wrinkles, frown wrinkles, tighten skin, double chins, thin face;
2, treatment of acne;
3, wrinkle eye: eye contour lines, Crow's, pouch, tightening of loose skin around the eyes;
4, body rejuvenation: back tightening-type, x-type adjustment, repair, buttocks contouring waist shaping, leg shaping, remove the butterfly sleeves, fix minor stretch marks.

Inquiry Details