freeze fat machine cryolipolysis weight loss equipment
Description:
Working theory
Cryo is a new non-invasive way to gently and effectively reduce fat in targeted areas of the body.As triglyceride in fats will be converted into solid in particular low temperatures, it uses advanced cooling technology To selectively target fat bulges and eliminate fat cells through a gradual process that does not harm the surrounding tissues, reduce unwanted fat.
A number of methods have been attempted for lipolysis including the use of laser, ultrasound, and radiofrequency electric current, since cryo was developed appling cooling to tissue, was approved as the most effective way to fat reduction.
This revolutionary new idea of dissolving fat, which is approved as an important technology progress in fat reduction since it is put into use.
Operatation steps

Step 1. With scissors to open the anti-freeze membrane bags, take out the membranes attched to the treatment area.
Step 2. Into the frozen pressure interface, frozen force negative pressure probe absorption in the treatment of dscorption infrigeration of fat.
Step 3. Waiting for frozen fat, frozen in RF handle hear decomposition into a piece of fat.
Step 4. Change cavitation continue to break down fat, so as to achieve de-fatting purposes.
Note: Treatment of silting which appear red, belongs to normal phenomenon, few days later will disappear slowly.

Technical parameter
Description:freeze fat machine cryolipolysis weight loss equipment
Voltage:110V- 240V, 50Hz/60Hz
Screen:8 inch touch screen
Power:≤800W
Cooling system:Water+Wind
Working time:Continuonsly / Time setting
Cooling output temperature:-10~4°C
Vacuum:650mmhg
Cryo output pressure:0-106kpa
Big cryo head size:63*57*127cm
Small cryo head size:54*80*155mm
Cavitation Frenquency:40Khz
RF Freqnency:5Mhz
Product Introduce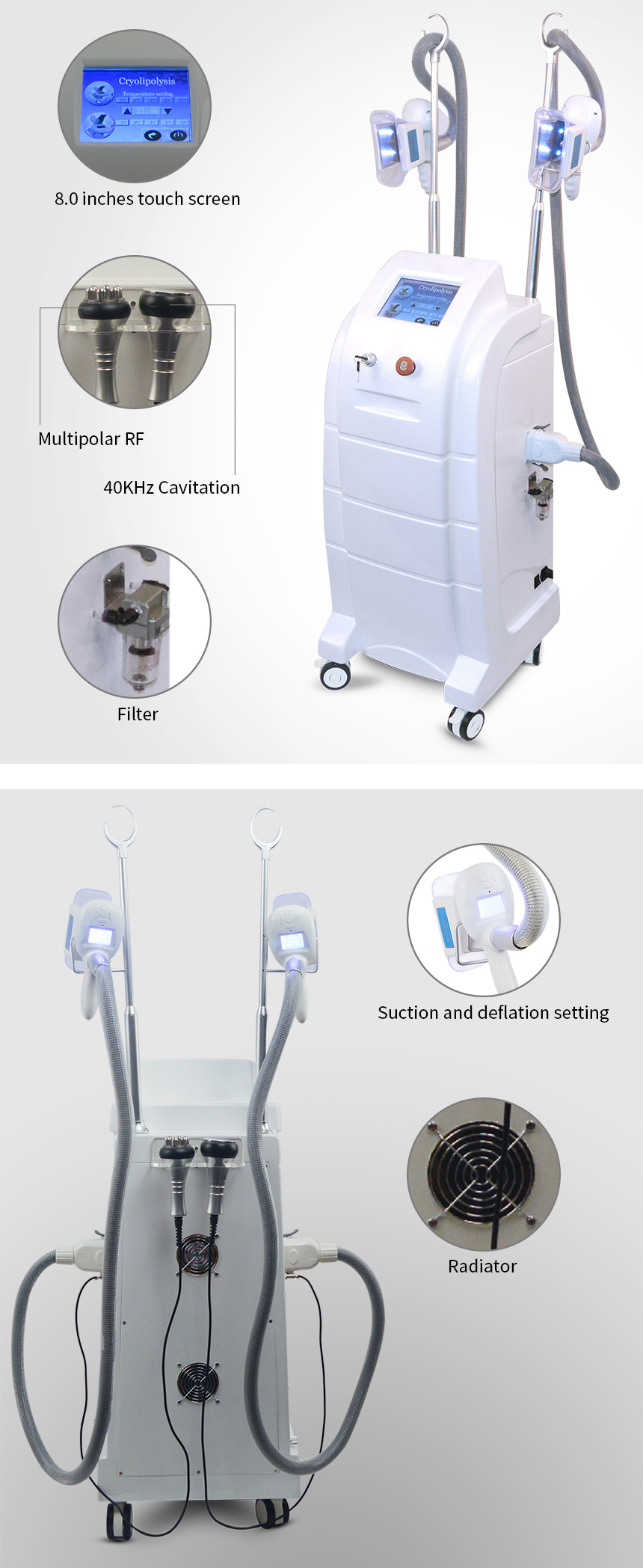 Accessories

Inquiry Details